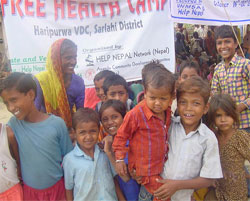 Created Date: July 19, 2006
Author: HeNN
Comment(s): 0
Two-day Health Camp, Sarlahi
PROJECT:
Two-day Health Camp
LOCATION:
Haripurwa village, Sarlahi district
PARTNER:
Local community
COST:
HeNN contribution: US$1,500
TIME:
November 2006
PROJECT DESCRIPTION:
HELP NEPAL Network organized a two-day long health camp in a remote Haripurwa Village Development Committee in Sarlahi district on the 9th and 10th of November 2006.
A team of doctors, with the support of locals and HeNN volunteers, checked nearly 1,500 patients. Besides the free checkup, HeNN also provided free medicines and lab services.
HeNN spent around US$1,500 to run the camp while the entire expense for food and accommodation were borne by the local community. HeNN has considered this as an excellent example of working in partnership.
Although nearly 200 cataract patients were operated in the free eye camp conducted by HeNN in November 2004, many cataract cases were detected this time as well. The most common cases were malnutrition, reproductive and ENT related problems and viral infections.
A 10 year-old boy had come for a minor checkup; however, he was suspected of a hole in the valve of his heart. He and his family were completely unaware of this serious disease. One of the doctors of the camp, Mr Jubin Silwal, has now coordinated with with Ganga Lal Heart Hospital in Kathmandu for the boy's treatment.
WHAT THEY SAID:
Adhiyana Devi Lohar, 87: The eardrops, which the doctors put in my ears, have relieved my pain and I also got medicines for free. People have told me that a health post is being built in Haripurwa. That will give a new life to the poor people of this village.
Jyachan Ram, 10: I came for a simple checkup for my cough and cold but the doctor told me I have a heart problem and I need an operation. I am very thankful that the doctor is also arranging a checkup for me in a heart hospital in Kathmandu. May be, I would have died if I had not come to this health camp.
Satyanarayan Yadav, 60: I came to the Eye Camp run by HEALTH NEPAL two years ago and had my cataract removed. From that time my eyes are fine and I came to the camp this to for a general checkup. HELP NEPAL has done so much to this village. I am ready to do anything for HELP NEPAL.