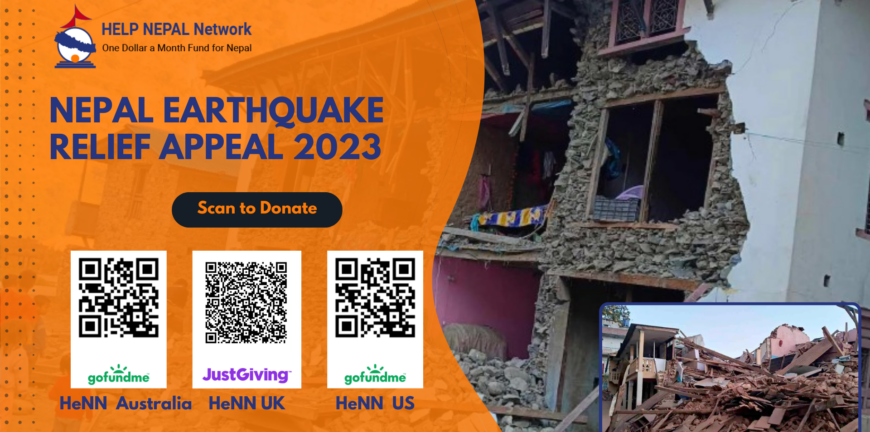 Created Date: November 05, 2023
Author: HELP NEPAL Network
Comment(s): 0
Nepal Earthquake Relief Appeal 2023
Nepal is prone to earthquakes. A 6.4 magnitude earthquake hit western Nepal on Friday night (3rd November 2023) causing great loss of lives and property. According to latest reports, more than 150 people have been killed in Jajarkot, West Rukum and other districts. At least 200 others were injured. Help Nepal Network has launched an emergency appeal to raise funds to support immediate relief works including support to medical services to earthquake survivors in the affected areas.
Nearly thousand people benefitted due to relief campaign launched by the Help Nepal Network in 2015. We also helped reconstruct local schools and health posts damaged due to the quake. Recently, we provided relief support to earthquake survivors of Bajhang district.
Help Nepal Network urges all its members, supporters, well-wishers and friends to Nepal to donate generously to provide emergency humanitarian help to earthquake survivors in Nepal. In coordination with local volunteers and community-based organisations, we will provide tents, blankets, drinking water and medicines to affected communities. Help Nepal submits audited reports to local authorities every year. We believe in voluntary, humanitarian service and we are known for impeccable record of transparency and accoutability.