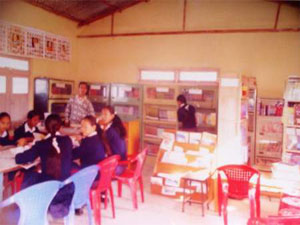 Created Date: July 18, 2005
Author: HeNN
Comment(s): 0
Support to Shakti School Library, Gorkha
PROJECT:
Support to Shakti Higher Secondary School Library
LOCATION:
Prithivi Narayan Municipality-3, Patechaur, Gorkha district.
PARTNER:
Shakti Higher Secondary School
COST:
HeNN Contribution: US$4,225
TIME:
November 2005
PROJECT DESCRIPTION:
The fund will be used for the purchase of books, furniture, library staff training etc. The books were bought by HeNN and handed over to the school management on the occasion of the HELP NEPAL International Day 2005 in Kathmandu.
The school was established in 1952. The new library will benefit 1,300 students and 35 teachers of the school. Besides, it will also benefit 200 teachers participating in Educational Trainings and 200 students and 70 teachers from nearby schools. The school has started 10+2 education in the Science Faculty and is planning to run the classes on Management and Humanities from 2006.
The total funding required for the project was US$8,450. The remaining fund will be arranged through the school management.