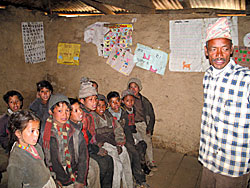 Created Date: July 19, 2006
Author: HeNN
Comment(s): 0
Support to Light Up Humla Campaign, Humla
PROJECT:
Support to "Light Up Humla" campaign
LOCATION:
Humla district
PARTNER:
Kathmandu-based renowned social worker and senior journalist, Bhirab Risal, and Humla-based social worker, Jivan Shahi, the initiators of Light Up Humla Campaign.
COST:
HeNN Contribution: $5,600
TIME:
2006
PROJECT DESCRIPTION:
The Light Up Humla Campaign aimed at using solar-powered electric lights in homes in remote Humla district to illuminate nearly 7,000 households.
Because of the use of firewood and pine resin for feeble lamps that are used for domestic lighting, the indoor smoke causes acute respiratory ailments, a major killer of children in the district which has the highest child mortality rate in the country.
The idea of the Campaign was that solar-powered light could be a means to liberate the people of Humla from those problems, protect the environment and create new opportunities for education and employment.
The Campaign's strategy was to exhort one Nepali who enjoys the benefits of modern electricity to support another who is living in darkness.
HeNN's support has lit up 100 houses in Humla. HeNN's support was the biggest received by the campaign. After HeNN's support the government itself adapted the campaign.