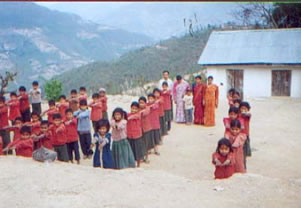 Created Date: July 18, 2001
Author: HeNN
Comment(s): 0
Reconstruction of Saraswati Primary School, Pyuthan
PROJECT DETAILS
PROJECT:
Re-construction of Saraswati Primary School
LOCATION:
Bijayanagar, Pyuthan district
PARTNER:
The school and the local community
COST:
£1,200
Later contribution: £200
TIME:
2001
PROJECT DESCRIPTION:
The project was again a major success in terms of local participation – two buildings were additionally renovated and the total cost of works is estimated at £2,650 versus HeNN's contribution of £1,200.
Works were also completed speedily within a period of 4 months by May 2001.
HeNN later contributed a further sum of £200 to the school for the purchase of furniture, storage wardrobes etc.