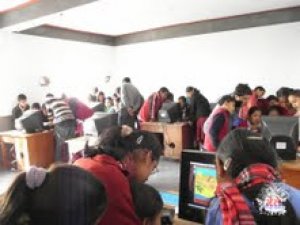 Created Date: July 18, 2009
Author: HeNN
Comment(s): 0
eLibrary at Sanskrit Sadan Secondary School, Lamjung
PROJECT:
Establishment of E- Library in Shree Sanskrit Sadan Secondary School
LOCATION:
Duradanda, Archalyani, Lamjung.
PARTNER:
FOSS Nepal
Shree Sanskrit Sadan Secondary School, Lamjung
COST: (In US Dollars)
(Exchange rate: US$1=NRs72)
|HeNN contribution: US$ 2,701.69
Local contribution for furniture and an instructor.
TIME:
January 2009
PROJECT DESCRIPTION:
Help Nepal in technical collaboration with FOSS-Nepal has started a mission, "one e-library per district". To date, HeNN has been successful in establishing around 12 e-libraries in different districts of Nepal.
HeNN is supported by volunteers from FOSS Nepal. Based on an innovative model that uses a single network server to run multiple computer stations, the Help Nepal e-library can be deployed at one fourth the cost of a traditional computer lab.
Like the previous ones, e-library deployment at Duradanda-6, Lamjung, aims to empower the local community through the use of computers and the library resources that are set up along with the computers.