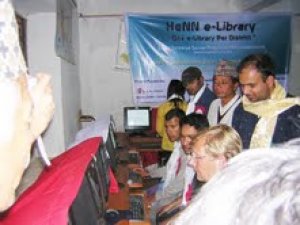 Created Date: July 18, 2008
Author: HeNN
Comment(s): 0
eLibrary at Koldung Devi Secondary School, Sindhupalchowk
PROJECT:
Establishment of eLibrary at Koldung Devi Secondary School
LOCATION:
Thumpakhar, Sindhupalchowk
PARTNER:
Save The Children, Norway
FOSS Nepal
Koldung School
COST:
Help Nepal Network: US$3,700
TIME:
February 2008
PROJECT DESCRIPTION:
Shree Koldung Devi Secondary School was established in 1964 and later was upgraded to lower secondary level in 1991.
After some years in 2003, the school was upgraded to higher secondary level.
The project was funded by Save the Children Norway, Nepal. HeNN provided the technical support and facilitated the deployment of the eLibrary with the support from FOSS community.