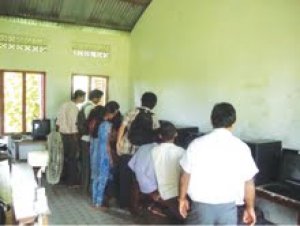 Created Date: July 18, 2010
Author: HeNN
Comment(s): 0
eLibrary at Adarsha Secondary School, Chitwan
PROJECT:
eLibrary at Shree Adarsha Secondary School
LOCATION:
Dibya Nagar, Chitwan
PARTNER:
FOSS Nepal
Shree Adarsha Secondary School
COST : ( In US Dollars)
(Exchange rate US$1=NRs72)
HeNN contribution: US$3,345.68
Local contribution: for furniture, instructor, etc.
TIME:
January 2010
PROJECT DESCRIPTION:
Adarsha Secondary School was established as Lower Secondary school at Dibya Nagar, Chitwan in 1960 and later on it was upgraded to high school.
The school has been providing education to the students of several nearby villages like Sukranagar, Meghauli, Gunjanagar, Dibyanagar of Chitwan.
The total population of these is approximately 1,60,000. The eLibrary will help the school students and the local community as well.