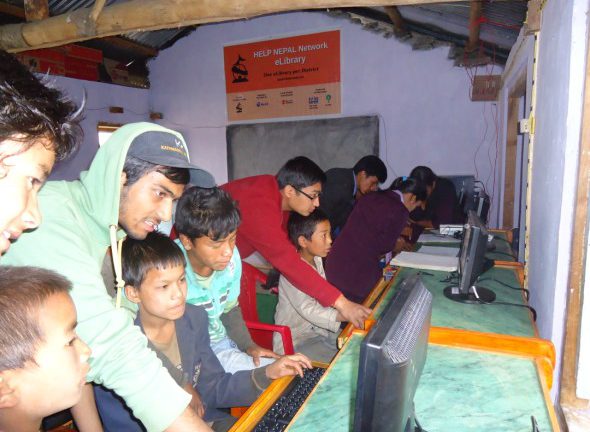 Created Date: July 18, 2011
Author: HeNN
Comment(s): 0
eLibrary at Taltuleshwori LS School, Sindhupalchowk
PROJECT:
Establishment of eLibrary at Taltuleshwori Lower Secondary School
LOCATION:
ThangpalkotVDC, Sindhupalchowk
PARTNERS:
Ncell, Telecom Company
Save the Children
Mahila Aatma Nirvarta Kendra
Help Nepal Network
COST:
Ncell contribution: NRs 519,391.18
TIME:
March 2011
PROJECT DESCRIPTION:
As a part of joint initiative among Help Nepal Network, Save the Children and Ncell Telecom Company, a school was identified in Sidhupalchowk district with a pressing need for eLibrary facility.
Save the Children identified the school, Ncell funded the project and Help Nepal implemented it along with the support from a local NGO partner, Mahila Aatma Nirvarta Kendra.
The school, Taltuleshwori Lower Secondary school, is located at Kotagaun VDC, ward no.2, of Sindhupalchowk district.
Four team members of Kathmandu University Open Source Community (KUOSC) volunteered to set up the facility at the school premises on March 16, 2011. In fact, the school had only been connected to electricity a few days before the set up of the eLibrary facility.
The school has a total of 193 students – 99 boys and 94 girls. They are all likely to benefit from the eLibrary facility along with teachers and members of local community.