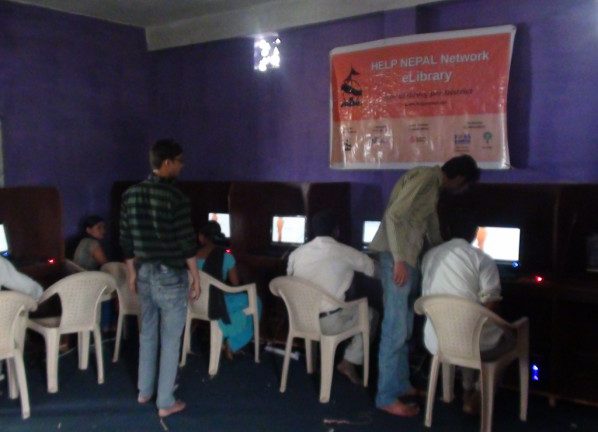 Created Date: July 18, 2011
Author: HeNN
Comment(s): 0
eLibrary at Janata Domi Chaudhary HS School, Siraha
PROJECT:
Establishment of eLibrary at the Janata Domi Chaudhary Higher Secondary School
LOCATION:
Pokharbinda VDC, Siraha
PARTNERS:
Ncell, Telecom Company
Save the Children
Bhawani Integrated Development Center
Help Nepal Network
COST:
Ncell contribution: NRs 519,391.18
TIME:
March 2011
PROJECT DESCRIPTION:
Help Nepal worked in collaboration with the Ncell Telecom Company and Save the Children to identify the school in need of eLibrary and set up the facility.
Further partnering with a local NGO Bhawani Integrated Development Center, eLibrary was set up at the Shree Janata Domi Chaudhary Higher Secondary School located at Pokharbinda VDC, of Siraha district.
The implementation followed the model of Save the Children identifying the school, Ncell coming up with funding and HeNN carrying the project out.
Members of the Kathmandu University Open Source Community (KUOSC) volunteered to set up the eLibrary facility at the school on March 23, 2011.
The School runs classes from 1 to 10 and has a total of 1138 students including 568 boys and 570 girls.
A brief training was also held for teachers and students on how to utilize the facility. The facility is expected to benefit the students, teachers and members of local community.