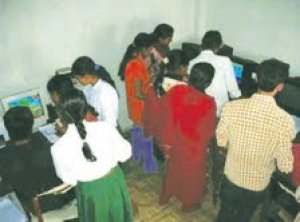 Created Date: July 18, 2007
Author: HeNN
Comment(s): 0
eLibrary in Saraswati Secondary School, Bhaktapur
PROJECT:
eLibrary in Sri Saraswati Secondary School, Bhaktapur
LOCATION:
Sudal VDC, Bhaktapur
PARTNER:
Sri Bhaktapur Secondary school
COST:
HeNN Contribution: US$1,422
TIME:
April 2007
PROJECT DESCRIPTION:
HeNN had contributed US$2,300 to Saraswati Secondary School in 2005 to help complete the construction of the new building. In April, 2007 HeNN again decided to establish an e-library in the school.
Though Bhaktapur is the adjoining city to the capital Kathmandu, Sudal is really an under-developed village. HeNN volunteers (students of a Kathmandu based engineering college) set up the library on 14 April, 2007.
One Pentium 4 and five Pentium 3 computers were contributed to the school with some useful website caches and other educational matters installed in the computers which can be viewed and studied by the stakeholders and the community.
It is expected that the availability of computers will help students and teachers to access information from the unlimited source of information over the world wide web and thereby help them sharpen their skills and make them competitive vis a vis other students from private and boarding schools in the district.