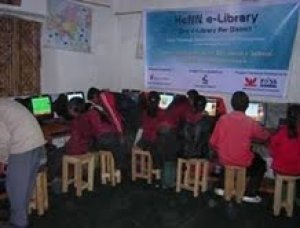 Created Date: July 18, 2007
Author: HeNN
Comment(s): 0
eLibrary for Education Training Center, Dhulikhel
PROJECT:
Establishment of eLibrary Education Training Center
LOCATION:
Dhulikhel, Kavre district
PARTNER:
• Help Nepal Network
• Free Open Software Source(FOSS), Nepal
• Education Training Center (Wing of Ministry of Education)
COST:
• HeNN Contribution: US$2,532
TIME:
January 2008
PROJECT DESCRIPTION:
eLibraries, pioneered in Nepal by HELP NEPAL Network, have been very successful in providing literacy and creating awareness about the use of computer and information technology in remote parts of Nepal.
eLibraries have already been established in Bhaktapur, Dang and Sindhupalchowk districts with the support of HeNN and other partners.
HeNN ventured to set up another eLibrary for the Education Training Centre at Dhulikhel in Kavre.
The project aims at equipping teachers with ICT (Information and Communication Technology) and other tools for educational development.
HeNN provided financial and technical support with the help of volunteers from Kathmandu University (Members of FOSS, Nepal).
The project was successfully completed in January 2008.