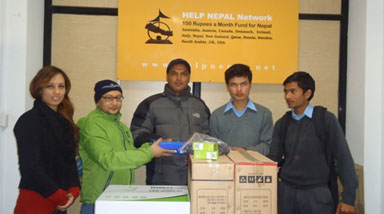 Created Date: July 18, 2013
Author: HeNN
Comment(s): 0
Library at Jana Jeevan School, Kalikot
Project:
Two computers donated to 'Student For Change' to establish library in Shree Jana Jeevan School, Kalikot
Location:
Manma VDC, Kalikot
Partners:
HeNN
Student For Change
Cost:
NRs 56,000
Time:
January 2013
Project Description:
The Help Nepal Network handed two new computers to Student For Change (SFC) organization to help establish well equipped library at Shree Jana Jeevan Secondary School, Kalikot.
The SFC is an organization of Budhanilkantha School students which has been carrying out various programs in the rural areas of Nepal.
Established in 2024 BS, the Jana Jeevan Secondary School is situated in Manma VDC, Kalikot. The school was in need of proper library and access to advanced technology.
HeNN provided 2 computers. The SFC set-up a well equipped library by providing computers, books and sports materials.