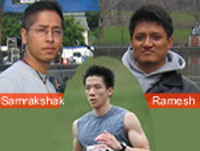 Created Date: July 18, 2008
Author: HeNN
Comment(s): 0
Youths Run for Electronic Library in Nepal
Last November, three amazing Nepali women ran the marathon and raised over US$8,000 for the Help Nepal Health Post in Haripurwa VDC, Sarlahi.
This year, two equally remarkable Nepali men and an American friend ran the DC Marine Corp marathon on October 28th to raise money for the Help Nepal e-Library Project.
Click here (broken link in original site) to learn more about the e-library project.
Help Nepal has already established two e-libraries, in Dang and Bhaktapur, and two new will soon be set up in Kavre and Morang. The next six districts targeted are: Banke, Bhojpur, Chitwan, Sunsari, Rautahat, and Rupandehi. Each e-library will cost approximately US$2,800 and thus the total Project cost for the next six districts is US$16,800.
Please support our committed marathoners and a worthy cause with your online contributions by clicking here – DONATE NOW
If sending checks, please make checks payable to the individual runners with the memo: For Help Nepal e-Library Project.
About the runners:
Ramesh Byanjankar is an avid runner and completed his first Marine Corp Marathon in 2005. He hopes to participate in a bi-triathlon in the near future. Ramesh completed his Masters of Science in Telecommunication and Information Systems and Masters of Business Administration from the Johns Hopkins University. He is currently working at GE in Stamford, CT as an IT/Business Analyst. He is happily married to his wife, Anju Gurung.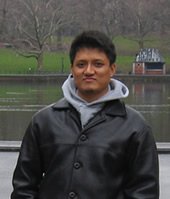 Samrakshak Singh Regmi completed his first marathon (Marine Corp) in 2005. Recently he completed the Quantico Half Marathon. He works for Adaptive Methods as a network engineer. He has a Bachelor on Information Systems from the University of Maryland, Baltimore County.
Andrew Lew has already participated in two marathons this year – the Quantico half marathon and the 10K Pikes Peek in Rockville, MD. He is looking forward to participating in the Marine Corp marathon and is excited about supporting Help Nepal. Andrew is a manager at Lingo, Inc., a telecommunication company based in McLean, VA.