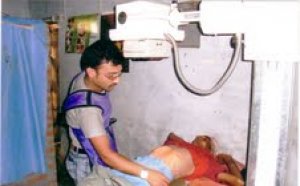 Created Date: July 19, 2008
Author: HeNN
Comment(s): 0
Support to Helping Hands Health Clinic, Parbat
PROJECT:
Improvement of Laboratory Section in Helping Hands Community Health Clinic
LOCATION:
Khanigaun-2, Parbat
PARTNER:
Helping Hands Community Health Clinic
COST:
HeNN Contribution: US$ 4,553
TIME:
January 2009
PROJECT DESCRIPTION:
Helping Hands Community Health Clinic (HHCHC) was established in Khanigaun, Parbat district, in February 2005. It is entirely operated by the community itself.
The mission of HHCHC is to develop the clinic into a community hospital that provides affordable health service. The clinic has been providing services to about one lakh people from 26 surrounding Village Development Committees.
There is an MBBS doctor, Health Assistant and a Lab Assistant in the clinic. Nearly 15 to 20 patients get services daily.
The clinic's general lab was not convenient enough for various tests like lipid profile, serum protein and electrolytes etc. The clinic needed the equipments to provide better service for which they approached HeNN for the support.
HeNN provided the equipments for the smooth operation of the clinic and to provide better service to the local community. The entire cost of the equipment was raised by the Run For Change, a London based enthusiastic group of young Nepalis who regularly raise funds for HeNN's projects.