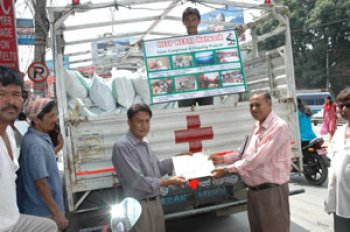 Created Date: July 19, 2007
Author: HeNN
Comment(s): 0
Support to Flood Victims, Koshi
PROJECT:
Handover of relief materials to the flood victims
LOCATION:
Koshi Zone
PARTNER:
Red Cross Society
COST:
Help Nepal Network US $10, 609
TIME:
September 12, 2007
PROJECT DESCRIPTION:
HeNN provided Non Food relief items which included blanket, cotton dhoti, tarpaulin, printed clothes, plain clothes, jeans and utensils to Nepal Red Cross Society in order to help the flood victims of Terai region (the sounthern plains) of Nepal.
The materials were handed over to Mr.Prabhu Kumar Laldash, representative of Nepal Red Cross Society by Ravi Kumar Manandhar, Secretary of HeNN on September 12, 2007.
Though HeNN's main focus of work are in the areas of health and education, it ocassionally provides support to disaster relief efforts as well.