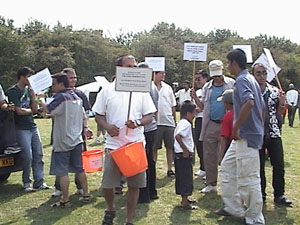 Created Date: July 19, 2004
Author: HeNN
Comment(s): 0
Support to Flood Victims, Khotang
PROJECT:
Support to Flood Victims
LOCATION:
Khotang disctrict
PARTNER:
Khotang Landslide Victim Support Committee
COST:
£1,200
TIME:
August 2002
PROJECT DESCRIPTION:
In July, 2002, due to severe monsoon in Nepal, a major landslide in Khotang district resulted in almost 100 deaths. The landslide also swept away some 250 houses.
HeNN quickly agreed to donate funds to the Khotang Landslide Victim Support Committee and support their aid efforts. With the kind co-operation of Yeti Nepali Association (UK), HeNN collected donations from attendees at Yeti's annual football tournament held in Greenford, Middlesex on July 28.
Just under £600 was collected on the day to which HeNN added £600.
The support was provided in two phases: in the first phase, HeNN-Nepal purchased medicine, food, clothing and bedding supplies worth £600 for families affected by the flood and in the second phase, the remaining £600 was donated to rebuild the roof and parts of the wall of a school that was severely damaged by landslide.