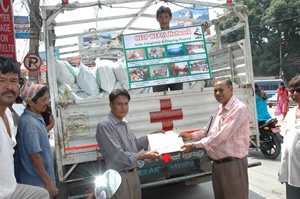 Created Date: September 18, 2007
Author: HeNN
Comment(s): 0
Support to Flood Victims in Tarai
HELP NEPAL Network provided relief material worth US$10,000 to Nepal Red Cross Society in support of the victims of recent floods in the southern plains of Nepal.
The relief material were handover to the Red Cross officials by the HeNN volunteers on the 12th of September 2007.
The Network had appealed to expatriate Nepalese and friends of Nepal to come forward in support of victims of floods that had ravaged various districts of terai.
On the very fist week of its appeal, Jack Starmer of HealthCare Nepal, a USA-based charity, announced that he would make a donation of US$ 5,000 to HeNN. "I have been impressed with how your Kathmandu staff has gotten the most out of a rupee/dollar and trust their judgment in how best to use the funds," he said in an email to HeNN.
"Thanks for taking the initiative to raise these funds. I'd been wondering how we might help and you gave us a way."
Mr. Starmer has been a long-time supporter of HeNN and has donated thousands of dollars to HeNN's various projects through HealthCare Nepal. He has also supported several other projects in Nepal.
In subsequent weeks, HeNN raised further US$ 5,000, which also included a contribution of about US$ 800 by Kathmandu-based staff members of the software company, D2Hawkeye. D2Hawkeye is also a long-time supporter of HeNN.
Based on the philosophy of Nepalis for Nepal , HELP NEPAL Network administers "One Pound/One Dollar a month Fund for Nepal," and has been in the forefront of mobilizing the goodwill and support of Nepalis around the world for charitable causes back home.
Officials say over 100 people lost their lives due to this year's flood and nearly 300,000 people have been displaced. Loss of livelihood and damage to infrastructure could amount to millions of dollars.