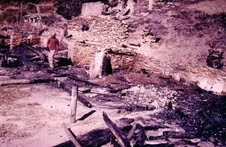 Created Date: July 19, 2005
Author: HeNN
Comment(s): 0
Support to Fire Victims, Mugu
PROJECT:
Support to Fire Victims
LOCATION:
Murma VDC, Mugu district
PARTNER:
Help Nepal Health Post, Mugu
COST:
HeNN Contribution: US$ 334
HELP NEPAL Health Post US$ 27
Total US$ 361
TIME:
December 2005
PROJECT DESCRIPTION:
The vicious wildfire outbreak took place in Murma village of Mugu district on 14th November 2005. The fire destroyed 6 houses.
In total, 24 people of 6 families were affected by the fire and out of them 6 were seriously injured. Fortunately, no fatal injury was reported. HELP NEPAL Health Post, established by HeNN, treated patients and distributed medicine free of cost.
As HeNN has a close relationship with the people of Murma village, HeNN tried to provide some relief to the fire victims and provided essential supplies such as beddings, clothes and other necessary items.
Mr. Ram Krishna Rokaya, a fire victim, said that the relief material distributed were extremely helpful and they will always feel grateful towards HeNN for helping them promptly at a difficult time.