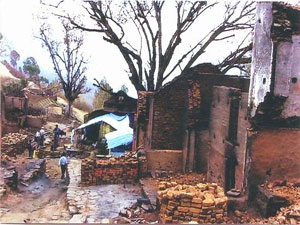 Created Date: July 19, 2006
Author: HeNN
Comment(s): 0
Support to Fire Victims, Bhojpur
PROJECT:
Support to fire victims
LOCATION:
Bhojpur district
PARTNER:
Bhojpur Sewa Samaj
COST:
HeNN contribution: US$1,129
TIME:
April 2006
PROJECT DESCRIPTION:
The vicious wildfire in Taksar Village Development Committee, Bhojpur, on 26th March 2006 destroyed over 80 houses, shattered entire settlements in three villages of Ward-8 and Dozens of domestic animals were dead. As a result, many people became homeless.
With the support from Bhojpur Sewa Samaj, HeNN provided essential supplies such as beddings, clothes and steel dishes to the needy.
Mr. Diwakar Devkota, Chief District Officer of Bhojpur, said that the people were very happy to receive such support at a difficult time and they were very grateful towards HeNN.