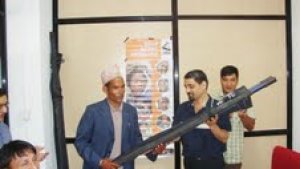 Created Date: October 05, 2010
Author: HeNN
Comment(s): 0
Stretchers Handed Over to Mugu Health Post
05 October, 2010: HELP NEPAL Network – Nepal handed over two stretchers today to a representative of HELP NEPAL Health Post in Mugu district.
The handover took place at the newly established office of HELP NEPAL Network in Kathmandu.
Handing over the stretchers to Birkha Bahadur Rokaya, the President of HELP NEPAL Network – Australia, Dr Raju Adhikari, said the costs of the stretchers may not be too high but they were a vital equipment in saving patient's life when they are carried to hospitals.
Rokaya, who had played a key role in the establishment of the health post in Mugu, said stretchers would be hugely helpful in a remote village like Murma, where the health post is located and where patients are always carried in a traditional doko.
HELP NEPAL Network built the health post in Mugu in 2004 and has been bearing the cost of its operation since then.
The stretchers were donated to HeNN by Harsha Thapa of Krishna Pranami Yuva Parishad, Lalitpur, which has also distributed stretchers to other organisations in the past. HeNN's long time associate and a former executive member of HeNN UK, Anil Thapa, put Harsha Thapa in touch with HeNN.
Arun Singh Basnet, Ravi Kumar Manandhar, Arun Shrestha, Rajendra Nath Shrestha, Rabindra Mishra from HeNN Nepal, Bhagirath Yogi from HeNN UK and Padam Neupane, who has been helping Rokaya's social causes in Mugu, were present on the occasion.