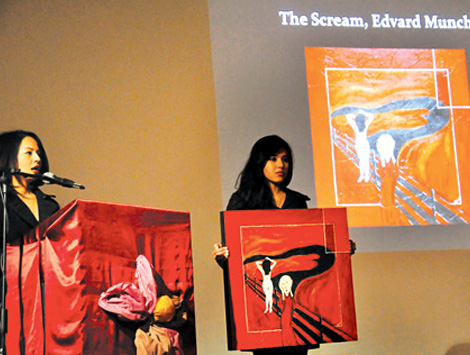 Created Date: December 22, 2011
Author: HeNN
Comment(s): 0
Social initiative through art, The Kathmandu Post
By PREEMA RANJITKAR
Source: The Kathmandu Post, 22 Dec 2011
Link: http://www.ekantipur.com/the-kathmandu-post/2011/12/21/et-cetera/social-initiative-through-art/229557.html
When Kapil Mani Dixit—a professional artist with a degree in Fine Arts from University of Texas in Arlington and recipient of the People's Choice Award, Special Achievement Award, Best of the Show Award among others—returned to Nepal and was looking for some charity work he could get involved in, he met Rabindra Mishra.
Mishra is the founder of HELP NEPAL Network (HeNN)—the largest charitable network of Nepalis which works to encourage the practice of practical philanthropy in the country. The theory of practical philanthropy is that an individual contributes a small portion of his earnings to society's more disadvantaged groups.
Practical Philanthropy is an approach which will not hamper an individual's normal life but which will benefit disadvantaged communities.
This is how HeNN and Kapil Mani Dixit, together with ECS Nepal came up with Art for Philanthropy, one of the very first fine art auctions to be conducted in Nepal. Dixit donated 17 of his paintings from his series Tribute to Great Artists for the auction. The paintings were inspired by great artists: Leonardo da Vinci, Vincent van Gogh and Andy Warhol to name some of them.
The paintings resembled pieces like da Vinci's Monalisa, Warhol's Soup Can and van Gogh's The Bedroom. However, Dixit's individualism shone through all of his works as they were in nude; a form that Dixit is known for.
The paintings, all of which were works in mixed media were Untilted: Mark Rothko, Several Circles: Kandinsky, Abraham: Barnett Newman, Thinking of Him: Roy Lichtenstein, Christina's World: Andrew Wyeth, The Kiss: Gustav Klimt, Composition no 10: Pie Mandarin, The two Fridas: Frida Kahlo, The Bedroom: Vincent Van Gogh, The birth of Venus: Botticelli, The Scream: Edward Munch, Soup Can: Andy Warhol, Mona Lisa: Leonardo Da Vinci, David: Michelangelo, Fountain: Duchamp and Dr Mayer-Hermann: Otto Dix.
After a presentation by Rabindra Mishra whence he spoke of the history and current involvements of HeNN and gentle persuasions by Miss Nepal 2002 Malvika Subba who volunteered to be the host for the event, nine paintings were auctioned off for Rs 225,000.
Every penny from the collective sum will be used for the development of Shree Adarsha Secondary School in Agarkhanchi. The money will be used to renovate the school building and buy new furniture for the students.