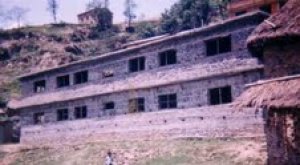 Created Date: July 18, 2005
Author: HeNN
Comment(s): 0
Roofing of Saraswati Secondary School, Bhaktapur
PROJECT:
Roofing of Saraswoti Secondary School
LOCATION:
Sudal Village, Bhaktapur.
PARTNER:
District Development Committee, Bhaktapur.
Village Development Committee, Sudal.
Earthquake Resistant Society Nepal & the Saraswati School.
COST:
HeNN Contribution: US$2,300
TIME:
2005
PROJECT DESCRIPTION:
The building of Saraswati Secondary School was constructed in Ward No.6 of Sudal village of Bhaktapur. However, the roofing (concreting) was yet to be done, for which the school approach HeNN. After usual scrutiny, HeNN provided US$2,300 to complete the construction.
The school was established in 1960. The total number of students is 455 and the total number of staff is 19 among which 18 are teachers and one is office assistant.