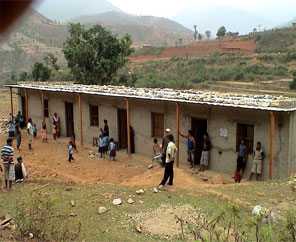 Created Date: July 18, 2006
Author: HeNN
Comment(s): 0
Construction of Saraswati Primary School, Salyan
PROJECT:
Construction of Saraswati Primary School
LOCATION:
Ghanjhari Pipal Village Development Committee -8, Salyan
PARTNER:
Local villagers
COST:
HeNN contribution: US$4,276
TIME:
2006
PROJECT DESCRIPTION:
The School was brought to the attention of HeNN via a local Kantipur Journalist, Mr Moti Poudel. The classes were being run in four huts constructed by the local people.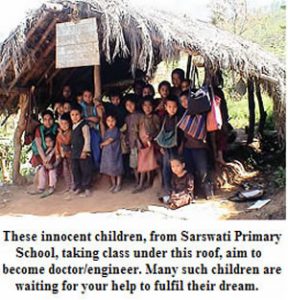 Classes are run only up to Grade 2. There are 43 students in the school.The hut could not provide protection against sun or rain.
There was no required infrastructure except for a desk and a bench. The students were forced to sit on the ground and take classes. With construction of the building and better facilities, HeNN hopes the children will not loose out on vital education.