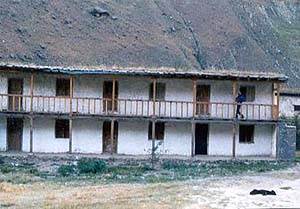 Created Date: July 18, 2001
Author: HeNN
Comment(s): 0
Library Construction and Stocking of Saraswati HS, Dolpa
PROJECT DETAILS
PROJECT:
Construction and stocking of a library at Saraswati High School.
LOCATION:
Dunai, Dolpa district
PARTNER:
Local people, government organizations and Dolpali people living in Kathmandu, Nepali Association in Victoria, Australia
COST:
HeNN contribution: £700
Nepalese Association in Victoria, Australia: £400
TIME: 2001
PROJECT DESCRIPTION:
Construction and stocking of the library at Saraswati School in Dolpa, one of the most remote districts in Nepal, was the first project undertaken by HeNN. It was extremely vital for HeNN to complete this project successfully.
HeNN constructed the building but it struggled for a while to find further funds to buy books. Thanks to Nepalese Association in Victoria which came forward to help us to buy books worth around NRs 50,000.
We bought the books but again we were rendered helpless as we didn't have enough funds to transport the books from Kathmandu to Dolpa. However, as they say, where there is a will, there is a way. Team members from HeNN Nepal requested their pilot friends to transport the books for free when they carried food to Dolpa. They agreed and that is how our first project was accomplished.
We were also amazed by the enthusiasm of the local people. Encouraged by our support they went to local authorities and others arguing that Nepalis who had no connection with Dolpa had "offered so much", hence the local authorities and people had a moral obligation to do something from their side.
That effort resulted in the addition of a science laboratory to the library.