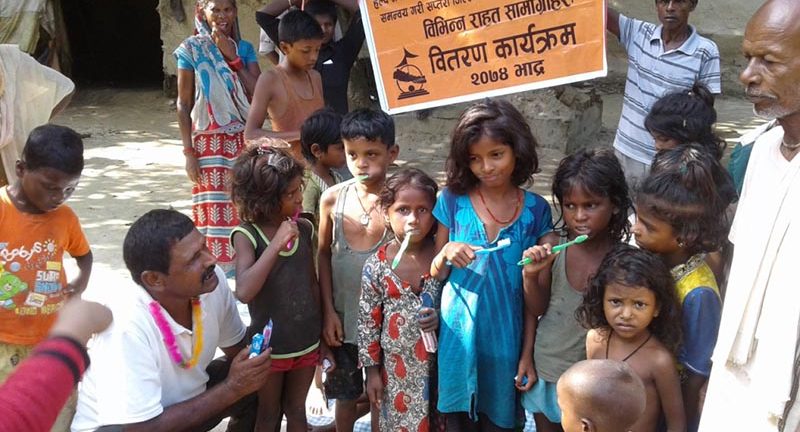 Created Date: August 28, 2017
Author: HELP NEPAL Network
Comment(s): 0
Saptari Musahar community provided with relief items, awareness spread
Source: The Himalayan Times
BYAS SHANKAR UPADHYAY
RAJBIRAJ: Help Nepal Network Kathmandu (HNNK) in coordination with Dharmi Halpha Women Development Club (DHWDC), Lalapatti has distributed relief items and spread awareness on hygiene in the Krishnanagar Musahar settlement in Rajbiraj Municipality-9 of Saptari district on Monday.
The flood survivors from the marginalised community were given lesson on leading healthy life taking precautions and safety measures in the aftermath of natural calamity.
HNNK distributed toothpaste, toothbrush, soap and mosquito-net to 75 children of the poor Musahar community.
During the relief distribution, Surya Narayan Yadav, an engineer at the DHWC held a 2-hour lesson for Musahars on hygiene; washing hands with soap water, cleaning teeth on regular basis, preventing the consumption stale and rotten food, cleaning the surrounding area, using mosquito-nets, hygienic sanitation among others emphasising to strictly follow.
He said, the club has carried out the relief distribution along with the awareness citing the past circumstances where numerous people lost their lives due to the lack of precautions and hygiene.
The distribution of relief items along with the awareness spread on hygiene by reaching out to the doors of Musahars was an exemplary step taken by the organisation, local headman Lakhan Sada of the community said expressing his joy.