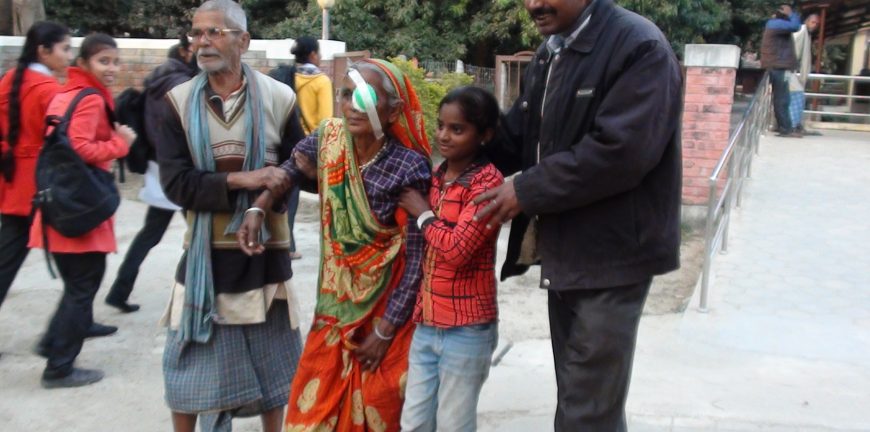 Created Date: February 01, 2017
Author: HELP NEPAL Network
Comment(s): 0
Saptari Eye Camp
HELP NEPAL Network organized a two-day eye camp in Rajbiraj, Saptari targeting older population prone to cataract. The eye camp, held on January 25 and 27 inside the premises of Shree Chinnamasta Bhupendra Sanskrit Secondary School in Sakhada, was conducted in collaboration with HeNN local partner, Dharmi Halfa Women's Development Club, with technical support from Sagarmatha Chaudhary Eye Hospital, Lahan.
The eye camp benefited more than 500 locals from nearby villages of Brahmapur, Deuri, Gamhariya, Haripur, Mainakaderi, Maleth, Manraja, Theliya, Tilathi, Malhaniya, Goithi and Ranjitpur.
Although the primary focus of the eye camp was identification and treatment of congenital cataract in older population, doctors found several cases of amblyopia, retinopathy, glaucoma and AMD. Patients were given medicine and referrals by the eye doctors.
According to Pawan Kumar Jha, a secondary level English teacher at the school, the eye camp was successful in raising awareness about eye diseases. "There is a high prevalence of cataract and other eye diseases in this area because of firewood cooking. This type of camps must be held regularly," he said.
HELP NEPAL Network distributed medicine and funded cataract surgery for 102 patients at the Sagarmatha Chaudhary Eye Hospital, Lahan.