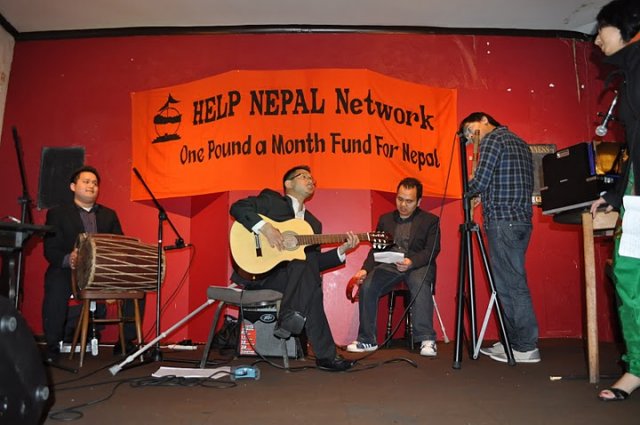 Created Date: March 21, 2011
Author: HeNN
Comment(s): 0
Sangeet Sutra Fund Raiser for HeNN in London
HELP NEPAL Network UK organised a musical night with Sangeet Sutra on Sunday 20th of March.
The programme was held at Plumstead in London.
Members of 'Sangeet Sutra' played the traditional Nepalese music in a fun-filled, family environment and help raise funds for good causes.
Pradeep Paneru, member of the HeNN UK executive committee, made a power point presentation highlighting major activities of HeNN over the last decade and how HeNN projects had been helping local communities by implementing a number of education, health and humanitarian projects.
Conducting the programme, Sachin Shrestha, another member of the HeNN UK executive committee, said HeNN had a separate Endowment Fund to pay for its administrative costs and every penny donated by the donors went directly to the project.
He said HeNN was a testament how small support made by Nepalese living overseas could make difference back home.
A noted artiste and HeNN well-wisher, Bivek Shrestha, and Sita Poudel also performed on the occasion.
Members from the audience including Bhagaban Shrestha and Suroj Maskey from Everest Stores, Yadav Bhandari of Bhandari Brothers, Harry Gurung of Gurkha Taekwondo, Prem Gaire, Binod Gyawali, Nirmal Shrestha, Ram KC and Kewal/Purna Gurung announced their donations to support HeNN activities in Nepal.
A video showcasing HeNN activities was also shown on the occasion.
About Sangeet Sutra:
Sangeet Sutra is a London-based traditional instrumental ensemble band.
The reason behind the formation of the band is the desire to preserve and promote different sounds of Nepalese ethnic groups of music throughout the world and to preserve the Nepali culture and art.
Sangeet sutra is all about bringing together melodies of Nepalese root music and instrument with new and unique sound.
Sangeet Sutra is inspired by the thought that 'if we don't try to preserve our art and culture, then who will?'
Band Members:
Sunil Newpaney Harmonium, Flute
Sanuj Thapa Tabla,Madal
Sabin Dangol Dhimey
Tanka Pun Magar Flute
Nusajan Thapa Harmonium, Shaker, Backing Vocal
Ganga Thapa Guitar, Vocal, Sarod