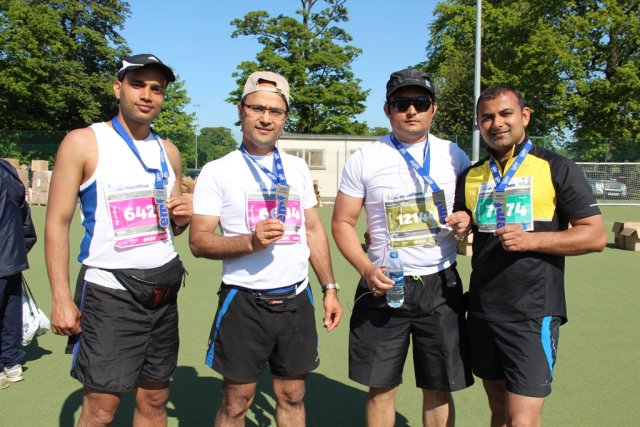 Created Date: July 18, 2012
Author: HeNN
Comment(s): 0
Runners Raise Rs 5 Lakhs for Mugu Health Post
17 June 2012: Four UK-based Nepali professionals successfully ran the prestigious Edinburgh Marathon last month to raise half a million rupees to support a health post in remote Nepal.
Mr. Rajendra Regmi, Dr. Vibhu Paudyal, Mr. Surya Nath Marahatta and Mr. Nabin Kumar Chhetri from the Nepalese Himalayan Association (UK) raised more than Rs. 5,10,000 for the HELP NEPAL Health Post at Murma village of Mugu district.
A chemistry researcher at the University of Aberdeen, Mr. Regmi has already participated in numerous charitable races in Scotland. But this was his first marathon.
Dr. Paudyal also works at the University of Aberdeen. He believes that running for charitable purpose is the best way to not only look after your own health but also care about others.
A researcher on the efficacy of yoga in cardiac health, Mr. Marahatta also shares similar passion. He runs for mental and physical wellbeing. He hopes to spread smiles to the people of Mugu, all the way from Scotland.
Mr. Chhetri, a writer, believes in having positive frame of mind. It is for health and happiness that he runs.
Together they want to inspire fellow Nepalis. They have expressed their desire to run for more such charities in future.
The fund raised during the Edinburgh marathon was handed over to the HELP NEPAL Network – UK.
The Edinburgh Marathon is renowned as one of the world's oldest marathons.
The event was telecast by major media including BBC and prominent papers.