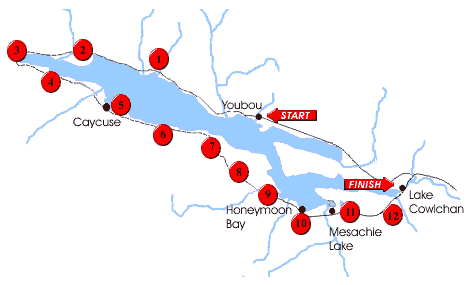 Created Date: July 18, 2005
Author: HeNN
Comment(s): 0
Runner With A Cause
Feature by Gokul Bhandari
HeNN-Canada
"Deshale ragata maage." This was Navin's one of the most favourite songs since his childhood. He used to sing it whenever he felt patriotic about our motherland Nepal , whenever he felt the rush of blood flowing in his veins. However, witnessing the recent violence, he reflected deeply and asked the true meaning of patriotism. Ultimately, he found the answer in the recess of his heart and soul. He knew the blood is a symbol of self-sacrifice and not killings. With this realization, he decided to shed blood from his own feet continuously running, walking (and crawling if necessary) a formidable distance of 56 km in a wilderness of western Canada – and raised $2,700 for the Help Nepal Health Post in Mugu.
It is not that Navin is an athlete or has a passion for running. On the contrary, his portly physique and luxuries of western lifestyle were critical obstacles to this undertaking. However, he wanted to perspire and inspire others. All this, not for recognition and fame but purely out of the desire to help Nepal by collecting money from bystanders and well-wishers. And Navin did walk on (give date here). Like Forrest Gump, Navin ran and ran – forgetting the pain of blisters and injuries and only wondering how much money he could raise for Nepal.
He describes travails of the walk, ".although with many blisters and aches and pains (like any other participant) I finally managed to complete the 56 Km walk !!! With such a foot, I was the few last ones from the very beginning, nearly to the end. There were many shuttle services to pick people up along the way if they wanted it. Many people were a bit unfortunate than me and had to take shuttles due the blisters and swellings which were probably unbearable. I could however, with the help of a "latthi" (that I took from home unscrewing the broom), Iboprufen and my wonderful students and my colleague, I managed to complete it. I was expecting a much better timing if I hadn't had that ankle injury, but with it, I was just aiming to complete it…however long it takes. I succeeded it and I must say I was not quite the last one even with this disappointing timing of 14 hours and 20 minutes!"
Navin has given a new meaning to Gopal Yonjon's song, "Deshle ragata maage." Perhaps we all should shed our blood in this way. Let us all listen to our heart, perhaps it is saying: Run, Bhola Run.
About Navin Dhakal: Navin is a Chemical Engineer with BE from University of London and PGCE from King's College London. He went back to teach at Budhanilakantha High School, his alma mater and subsequently, taught at the United World College of the Adriatic (Trieste, Italy) for four years. In Italy, Navin founded HeNN-Italy during his stay there. Navin currently teaches at Pearson College, Canada, another one of the 10 United World Colleges. Navin feels glad that he is part of these two great organizations: the UWCs and the HeNN, which are both set up for a Noble cause.
About the Route: The walk is 55.9km in total. It is a gravel logging road up to Rest Stop 9 at Honeymoon Bay. The remainder of the walk is on gravel shoulder of a two lane highway through a scenic wooded area. The route is level until Rest Stop 7. The elevation rises to 100m and declines before Honeymoon Bay.
About the Great Lake Walk: www.greatlakewalk.com
Great Lake Walk Sponsors:
The sponsors, listed below, included nearly 80 individuals from across the world.
1.Kiran Sitaula US$1/mile US$ 17.5
2.Gopal Sapkota US$ 28
3.Bimal Kharel US$ 107
4.Pukar Malla US$ 10
5.Sourya Shrestha US$ 10
6.Uttam Sharma US$ 28
7. Rasendra Khanal US$ 25
8.Roshani Pande US$ 20
9.Pranab M.S. Pradhan US$ 56
10.Roopesh Joshi US$ 15
11. Kundan Nepal US$ 28
12. Diwas Adhikari US$ 56
13.Samyem Tuladhar NRs 1500
14. Ava Joshi NRs 1000
15.Shailesh Tiwari NRs 5600
16. Prerana Shrestha US$ 15
17.Yagya N. Regmi 25cents/mile US$ 14
18. Rajendra S. Thapa UK £ 25
19.Pranaya M.S. Pradhan S'pore $ 30
20. Mahesh Kunwar ( Australia ) Aus$ 56
21.Laba karki US$ 50
22. Rajendra Adhikari US$ 28
23.Ritesh Poudyal US$ 56
24. Bisun Dev Mahato US$1/mile US$ 35
25. Saroj Bhattarai US$ 25
26.Tripti Thapa US$ 25
27. Bhed. Bdr. Bista US$ 40
28. Sameer Kapar 50 cents/Km US$ 28
29.Raxak Mahat UK £ 32
30.Paramendra K. Bhagat US$1/mile US$ 35
31. Dipak Purohit UK £ 25
32.Shalini Tatter 50 pence/Km UK £ 28
33.Gyanu Lamichhane US$ 30
34. Kapil Mishra US$ 28
35.Pratikshya Bohra US$ 25
36. Nabin UK£ 15
37. Sanjeeb Sapkota US$ 50
38. Thakur Devkota UK £ 10
39. Kishoresapkota UK£ 20
40. Sher B. Karki US$ 100
41. Nabina Shrestha US$ 25
42. Mamata Khatri US$ 100
43. Anuradha Gurung US$ 20
44. Prasanna Dhungel US$ 20
45. Haroun Mahgerefteh UK £ 10
46. Ann Hill Euro 20
47. Julius Krajnakova Euro 100
48.Alok Kharel US$ 25
49. Raju Adhikari UK £ 10
50. Ganesh Thapa UK £ 10
51. Nirmal Chaulagain (US$1/Km) US$ 56
52.Sanjay Das UK £ 10
53. Terence/Enid Nolanwoods UK £ 10
54. Simon Waldram UK £ 20
55. Aayam Lamichhane UK £ 15
56. Nagendra Giri UK £ 20
57.Sagun K.C. (US$1/Km) US$ 56
58. Ricky Joshi US$ 40
59. Badan Tuladhar US$1/Km US$ 56
60. Keshar M. Tamrakar (NRs 5/Km) NRs 280
61. Roshan Shrestha US$ 20
62. Abanish Rizal US$ 20
63. Sameer Karki (NRs 35/Km) NRs 1960
64. Parashar Malla CDN$21
65.Mark Wheen CDN$20
66.Chris Blondeau CDN$40
67.Louise Guether CDN$50
68.Sylvia Roach CDN$56
69. Laura Fulton CDN$30
70. Peter & Alison Gardner CDN$112
71. Andrew Sewel CDN$50
72.Catrin Brown CDN$112
73.Dave Skilling CDN$25
74. Geoffrey Tindyebwa CDN$20
75.Chris Pratt CDN$10
76. Bikram Pande ( Denmark ) DKK 100
77. Rabindra Mishra ( UK ) £20
78. Shailesh Gongal USD56
79. Mamata Khatri USD100
80. Garth Irwin CDN 53
81. Christina Mc donald USD7
82. Tara Kant Sigdel USD20
83. Narayan P. Sharma USD15
84. Eileen/Theo Dombroski USD25