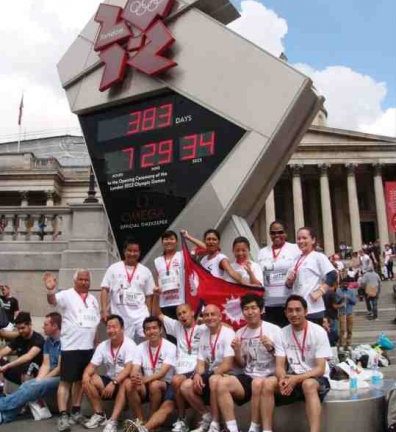 Created Date: July 12, 2011
Author: HeNN
Comment(s): 0
'Run for Change' to Build School in West Nepal
12 July 2011: Nepali youths and friends of Nepal have taken part in the British 10K Marathon to raise funds for a school in far-western district of Bajura in Nepal.
12 members affiliated to the Run for Change Nepal (www.runforchangenepal.com) completed the British 10K on 10th July 2011 in London.
This is the fourth year that members of the team are taking part in the British 10K to support schools in Nepal in partnership with the HELP NEPAL Network: One Dollar a Month Fund for Nepal (www.helpnepal.net).
Run for Change members, who successfully concluded the Run include Paras Joshi, Balmukund Prasad Joshi, Pratima Joshi, Amol Gurung, Prabal Gurung, Alice Shrestha, Tshering Mengiste, Rinchen Donka Lama, Anny Johnson, Sudip Gurung, Matthew Coughlan and Sailesh Rajnikar.
The team aims to raise 4,600 pounds this year to support the construction of Parvati School in Bajura.
Last year, Run for Change raised nearly 9,000 pounds. The money was used to support three schools, namely Shree Manakot Lower Secondary School, Bajura; Shree Mugu Primary School, Kerabari, Morang; and Shree Thokarpa Secondary School, Sindhupalchowk.
"It's a matter of great pride and satisfaction for all of us that we have been taking part in the British 10K for the last four years and supporting great causes in Nepal," said Paras Joshi, coordinator of the Run for Change Nepal. "We are hopeful that as last year we would be able to get support and encouragement from the expatriate Nepalese community as well as the friends of Nepal."
He also urged all to support this cause by visiting the group's website at www.runforchangenepal.com.
Chairman of the HELP NEPAL Network UK, Dr Pranab Gyawali, thanked all the runners for their enthusiasm and support to build schools in Nepal. "It is a matter of great satisfactionthat those Nepali youths and friends of Nepal in the UK have taken to their hearts interests of Nepali children in remote regions like Bajura. We would like to ensure that every penny of the support they raise will be spent for the designated project as in the past," said Dr Gyawali.
Pls visit www.helpnepal.net to find out progress of the projects undertaken by the Run for Change Nepal.