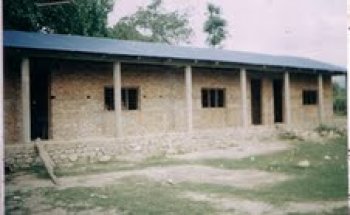 Created Date: July 18, 2006
Author: HeNN
Comment(s): 0
Roofing of Janashakti Secondary School, Rautahat
PROJECT:
Roofing of Shree Janashakti Secondary School
LOCATION:
Gaidatar, Rautahat
PARTNER:
Janashakti Secondary School
District Development Committee
COST:
HeNN contribution: US$1,480.00
TIME:
July 2006
PROJECT DESCRIPTION:
Shree Janashakti Secondary School comprises more than 800 students from grade 1 to 9. The school roof was destroyed during a thunderstorm in June 2006 and needed support for its reconstruction. The news about the school condition where students had to study in open sky was published in Kantipur Daily on July 28, 2006.
The students had to use their books to avoid scorching heat by keeping it on their head and in case of rain they had to run to their nearest shelter. It was very difficult to run the regular classes due to heat and rainfall.
HeNN approached the school to help them. The four new rooms were built with the support of District Development Committee and the destroyed roof was constructed with the contribution of 90 pieces of tin roof worth US$1,480 by HeNN.