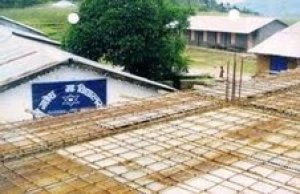 Created Date: July 18, 2008
Author: HeNN
Comment(s): 0
Roofing of Ganesh Secondary School, Baglung
PROJECT:
Roofing of Shree Ganesh Secondary School
LOCATION:
Narayansthan-5, Baglung district
PARTNER:
Village Development Committee
Local community
Internal resources of the school
COST:
(Exchange rateUS$1=NRs72)
HeNN contribution: US$4,166.66
Local contribution US$1,790.62
Internal resources of the school US$1,163.6
Total project cost US$7,107.14
TIME:
March 2009
PROJECT DESCRIPTION:
Sri Ganesh Secondary school was established in 1980 as a primary school and gradually it upgraded itself as a secondary school.
The school has proved itself as an example in the district. The students at the primary level are taught in English medium, which is unusual in a government school.
The school has aimed to teach up to class ten in English Medium in the coming days. And furthermore the school is equipped with the extra facilities such as computer education, library and lab for the use of students.
The school building was destroyed during a thunderstorm in 1993 and needed support for its reconstruction. The school was re-constructed with the support of the local community.
HeNN's contribution was used to build a concrete roof for the new building.