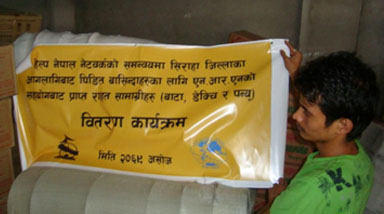 Created Date: July 19, 2012
Author: HeNN
Comment(s): 0
Relief to Fire and Flood Victims, Siraha and Kaski
Project:
Relief Materials sent to Siraha Fire Victims and Seti Flood Victims
Location:
Siraha, Kaski
Partners:
HeNN
NRN Association
Nepal Red Cross Society, Kaski
Sano Paila
Costs:
NRs 416,500
Time:
July 2012
Project Description:
The NRN Association is a long-term supporter to the HeNN activities. The NRNA handed over a cheque of NRs 416,500.00 to HeNN in order to support Siraha Fire Victims and Seti Flood Victims.
For Seti Flood victims, HeNN coordinated with the Nepal Red Cross Society, Kaski and bought 192 pieces of tent.
For Siraha Fire victims, HeNN coordinated with Sano Paila and bought 1,230 pieces of cooking utensils. All the relief materials were sent by bus to Pokhara and Siraha.