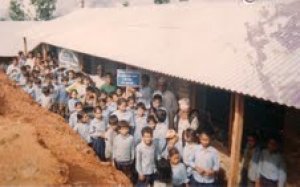 Created Date: July 18, 2008
Author: HeNN
Comment(s): 0
Reconstruction of Kanya Devi School, Nuwakot
PROJECT:
Reconstruction of Sri Kanya Devi Lower Secondary School.
LOCATION:
Kalyanpur, Nuwakot.
PARTNER:
• Help Nepal Network
• School Management Committee
COST:
• HeNN contribution: US$4,221
• Local Contribution: US$,2657
Total: US$6,667
TIME:
June, 2008
PROJECT DESCRIPTION:
Shree Kanya Devi Lower Secondary School in Kalyanpur, Nuwakot district, has around 400 students from Grade one to eight. The students mainly come from underprivileged ethnic groups.
The school approached HeNN to help with reconstruction of the School building, which was in a delapitated condition.
Out of the total estimated cost of nearly $6,667, HeNN provided $4,221 and the rest was borne by the local community through financial support and voluntary labour.
HeNN provided the first installment of $2,000 in October 2007 with which the school started the construction of three class rooms.
Second installment of $1,333 was handed over in June 2008. The rest of the money was provided upon receiving the project completion report from the school.