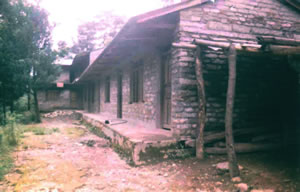 Created Date: July 18, 2002
Author: HeNN
Comment(s): 0
Reconstruction of Kamala School, Lamjung
PROJECT:
Re-construction of Kamala Primary School.
LOCATION:
Simpani Subedi Village, Lamjung.
PARTNER:
Annapurna Conservation Trust, Kamala Primary School and local villagers.
COST:
HeNN contribution: £2,000
Annapurna Conservation Trust: £3,500
Local Funds: £1,500
TIME:
2002
PROJECT DESCRIPTION:
The Kamala Primary School lies in the north of Lamjung district in the wester region of Nepal. The school was in a dilapidated condition.
Annapurna Conservation Trust provided 50 percent of the fund required for the reconstruction.
"After the re-construction of the school the students have better class rooms which has improved the environment for education. We are really grateful to Help Nepal Network for all that they have done for us," said the school board in a message to HeNN.