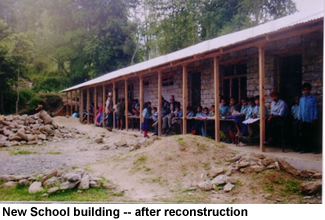 Created Date: July 18, 2007
Author: HeNN
Comment(s): 0
Reconstruction of Gogandada School, Dolakha
PROJECT:
Reconstruction of Gogandada Primary School.
LOCATION:
Jafe Village District Committee, Ward No:-6, Dolkha.
PARTNER:
Dolkha District Development Committee
Jafe Village District Committee
Community forest users group, youth clubs and the locals.
COST:
HeNN Contribution: US$4,286
TIME:
June 2007
PROJECT DESCRIPTION:
With the support from local people and the Jafe VDC, Sri Gogandada Primary School was built in 1988 using local stones and mud. Due to seasonal rainstorm during monsoon the school building began to be swayed away and was in rundown state.
HeNN approved the project soon after receipt of a proposal along with other documents for funding from the school for the construction.
Fund was handed over to the project in two phases, in January, 2007 and May, 2007.
The building construction of the school was completed in June 2007 and since then the students and teachers are able to continue their teaching and learning in a safe and secure environment.