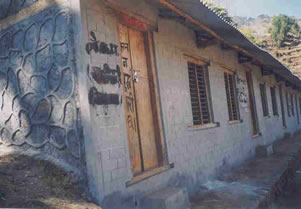 Created Date: July 18, 2002
Author: HeNN
Comment(s): 0
Reconstruction of Chanaute School, Parbat
PROJECT:
Re-construction of Chanaute Primary School
LOCATION:
Lunkhu Gharedi Danda, Parwat
PARTNER:
The school and the local volunteers
COST:
£1,500 (2002)
£565 (2005)
TIME:
2002
PROJECT DESCRIPTION:
Chanaute Primary School in Lunkhu Gharedi Danda, Parwat district in West Nepal, was in completely dilapidated condition prior to its re-construction for which HeNN provided £1,500. The local participation through voluntary labour saved construction costs and the work was completed within six months.
In late 2004, the school came back to us requesting for further help to buy furniture etc for the classrooms. After the usual scrutiny of the proposal, HeNN provided further £600 to the school in March 2005.
A teacher of the Chanaute Primary School, Mr. Indra Prasad Sharma, said: "After the construction of the school building the number of students have increased and, noteably, the number of female students have gone up. Probably they feel enthusiastic to come to school."