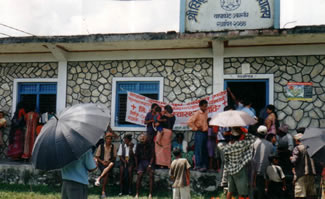 Created Date: July 19, 2005
Author: HeNN
Comment(s): 0
One Day Health Camp, Kaski
PROJECT:
One day health camp
LOCATION:
Thulakhet, Pame VDC, Kaski district
PARTNER:
Nepal Junior Youth Red Cross Circle, Budhanilkantha School
Manipal Medical College
COST:
HeNN contribution: US$1,334
Nepal Junior Red Cross Circle: US US$1,000
Nepal Junior Red Cross Circle: US$934
Ministry of Health and Population: US$67
Bottlers Nepal, NCC Bank, SOI group and SEBS: US $1,400
Total: US$4,735
TIME: August 2005
PROJECT DESCRIPTION:
Unlike other health projects, HeNN's involvement was not direct in this one. It supported Nepal Junior Youth Red Cross Circle of Budhanilkantha School, which conducted the health camp at Thulakhet, a very remote village in Kaski district.
The camp, held on 27th August, 2005, provided basic health services to 500 people from different Village Development Committees. Ten doctors, including Gynecologist, Orthopedic, ENT and General Surgeon, along with the team of 15 interns and 4 nurses form Manipal Medical College, participated in the camp.
The patients from different villages as far as Sarangkot, Dhukur Pokhari, Chapacot and Bhadaure also visited the camp. The Nepal Junior Red Cross Circle distributed free medicine worth US$ 1,000.
Similarly, medicine worth US$ 934 was donated the Manipal Medical College's Fund for the Poor, which provides free drugs to the needy.