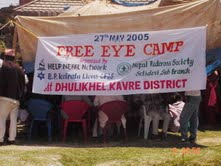 Created Date: July 19, 2005
Author: HeNN
Comment(s): 0
One Day Eye Camp, Kavre
PROJECT:
One day eye camp
LOCATION:
Dhulikhel, Kavre district
PARTNER:
Nepal Red Cross Society, Setidevi
BP.Koirala Lions Club of Ophthalmic Studies (BPKLCOS)
COST:
HeNN contribution: US$1,000
BPKLCOS: Technical support, including free lens
Nepal Red Cross Society , Setidevi: Transportation and publicity
TIME:
May 2005
PROJECT DESCRIPTION:
A one day eye camp was held at Dhulikhel city, Kavre district, at the outskirt of Kathmandu. BPKLCOS, a leading ophthalmic institute supported HeNN on all technical aspects.
Besides providing doctors and the paramedics, the center also provided free lenses with the suture and needle for the free cataract extraction that was done on the next day in the hospital.
Nepal Red Cross Society, our local partner, mobilised local volunteers to publisise about the camp and its management. They also contributed towards the transportation of patients to BPKLCOS, Kathmandu, for the surgery.
Just over 600 screenings were done in the camp, out of which 48 patients had surgery for cataract removal in the hospital the next day. The surgery was provided completely free of cost.