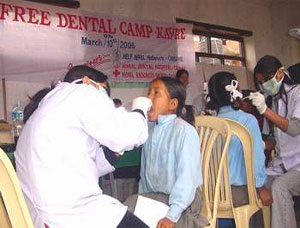 Created Date: July 19, 2006
Author: HeNN
Comment(s): 0
One-Day Dental Camp, Kavre
PROJECT:
One-Day Dental Camp
LOCATION:
Budol, Kavre district
PARTNER:
Himal Dental Hospital, Chabahil, Kathmandu
Redcross Society, Setidevi Branch
COST:
HeNN contribution: US$ 550
Himal Dental Hospital: Service worth US$ 900
TIME:
March 2006
PROJECT DESCRIPTION:
The one day Dental Camp at Budol village in Kavre district, east of Kathmandu, went very well. Out of 245 people who came to the camp for dental check up, 61% received scaling, 20% had temporary filling, 4% got their tooth extracted and the remaining 15% had no dental problems.
Apart from checkups, counseling program was conducted for the children present at the camp regarding the good food habits, brushing technique and preservation of original tooth in case of accident.
The villagers were very grateful for the counseling and the students who visited the camp received one toothbrush each.
WHAT THEY SAID:
Rama Pathak, a 12-year old student of Bhakteshwor Lower Secondary School, Budol, had come to the camp with her school friends for dental checkup. She seemed very happy to get a free checkup and a toothbrush as well.
She said "I have not brushed my teeth with a toothbrush till now. I didn't know how to do it but now on I will brush it regularly as suggested by the dentist."