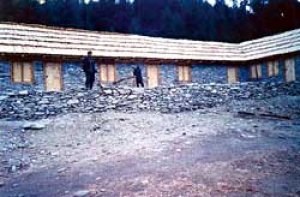 Created Date: April 29, 2004
Author: HeNN
Comment(s): 0
Networking For Nepal, Nepali Times weekly
Source: Nepali Times, Kathmandu, 23-29 April 2004
http://www.nepalitimes.com/issue/193/LondonEye/10683
Rabindra Mishra
Raju Adhikari is a scientist in Australia, Shailesh Gongol is an airport planner in America, Pranab Gyawali is a doctor in Britain, Arun Singh Basnet is a philanthropist in Nepal, Upendra Mahto is a successful businessman in Belarus, Suman Dhakal is a quality controller in a factory in Italy, Himali Upadhya is an international banker in Austria, Mahesh KC is an engineer in Sweden, Madan Gautam is a conservationist in New Zealand and Gokul Bhandari is a PhD scholar in Canada.
These global Nepalis all have one thing in common: a strong conviction that every Nepali must do something for Nepal. Otherwise, they say, there is no point just sitting and complaining about the country. To translate that conviction into action, they work with scores of other like-minded Nepalis in a charity called Help Nepal Network (HeNN) with formally registered chapters in Nepal, the US, the UK and Australia are and informal chapters in six other countries.
The network draws its inspiration from late Gopal Yonjan's powerful patriotic lyrics, 'Dherai chha garnu swadeshko sewa, Nepali bannalai/Shir thado pari Nepali bhanne ma nai hun bhannalai/Hoina bhane Nepali nabhana, birko chhora, naatima nagana,' which has an audio-link on the charity's website, www.helpnepal.net.Â
Nepalis returning from a holiday in Nepal would share experiences about how things were getting worse everyday. Over pints of beer, they analysed why this was so. But if someone asked what they had done to make things better, the answer was usually "nothing". HeNN changed that when it was set up four years ago. It aimed to encourage Nepalis, especially those living abroad, to contribute to Nepal.
The network urges every earning member of the non-residential Nepali community to forego a can of beer or carton of juice every month and donate the savings to the fund. In Nepal, it urges locals to have a plate of momo or a few cups of tea less for the same purpose.
HeNN-UK's Madhusudan Kayastha, says: "We expect more and more Nepalis to contribute actively to nation-building through any small way." The appeal has worked. In the last four years, the network has raised nearly $50,000, virtually all from Nepalis. But it also accepts donations from non-Nepalis. The America-Nepal Alliance for Health, through the initiative of its president, Jack Starmer, donated $1,000 to buy medical equipment for a $8,000 health post in a remote village at Mugu.
So far, HeNN has supported the construction of a library in Dolpa and schools in Pyuthan, Dang and Parbat. It has conducted several health camps and, in collaboration with Nepalganj-based Sahara Group, supported children affected by recent violence in the country. It also helped Khotang's flood victims in 2002.
One of HeNN's strengths is that all the money is used for projects, there are no overheads. Until the end of last year, administrative costs were born by volunteer committee members but as activities expanded, it became more difficult to manage finances. This year HeNN opened a small office in Kathmandu. Its running cost is sponsored by two Nepali businessmen: Ashok Shrestha in the UK and Upendra Mahato in Belarus. The money, therefore, remains exclusively for charity.
HeNN has learnt that it does not take millions to make a difference, it just takes a desire to help, a dollar or a few rupees. The important part is a collection mechanism, and managing and using individual donations. This is what HeNN tries to deliver. "Just imagine how many schools, health posts, orphanages and old people's homes overseas Nepalis can build and support if they donated just a dollar a month to a collective fund," says HeNN-Nepal president Arun Singh Basnet. "This is what our dream is all about."
Rabindra Mishra has been associated with Help Nepal Network from its inception. Donations: admin@helpnepal.net www.helpnepal.net