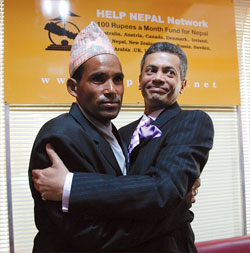 Created Date: July 17, 2013
Author: HeNN
Comment(s): 0
Nepalis helping Nepalis, Nepali Times
Source: The Nepali Times, ISSUE #534 (31 DEC 2010 – 06 JAN 2011)
Link: http://www.nepalitimes.com.np/issue/2010/12/31/Nation/17790
T wo men, one an industrialist from Kathmandu and another, a social worker from a village in remote Mugu, embraced each other. They had been brought together by a unique Nepali-to-Nepali charity to bring education and health to disadvantaged citizens.
Help Nepal Network (HeNN) channels small donations from diaspora Nepalis to fund schools and health posts in remote parts of Nepal. At a function in Kathmandu on Monday, Siddhartha Rana inaugurated HENN's new office by hugging Birkha Bahadur Rokaya from Murma village on the banks of Lake Rara in Mugu. HeNN doesn't use its donations for overheads, but its activities have become extensive enough to warrant an administrator in Nepal. The new three-person office in Chabel will run on the interest of a trust fund created by Rana's donation of Rs 10 million.
When Help Nepal Network (HeNN) was set up in 1999 in London, it had 'practical philanthropy' as its guiding principle: allowing Nepalis to contribute the price of a can of beer a month for the benefit of Nepalis back home. Its '$1 a Month' campaign spread quickly. In 10 years, small donations have built schools, health posts and e-libraries in villages across the country.
"Why complain that the government is doing nothing? Little things that we can do ourselves can bring great changes," says Rabindra Mishra, one of HeNN's founders and a journalist with the BBC.
At Monday's ceremony, Rokaya was overcome with emotion as he recounted how he struggled to stay above the fray during the war to help improve healthcare and education in his village. He was attacked and detained by both sides. "I used to think aid only came from foreigners," Rokaya said. "Now I know that it is money from our Nepali brothers and sisters all over the world."
A group of second-generation Nepalis in London raised Rs 1.2 million running a marathon this year, and the money was handed over for school upgrade projects in Bajura, Sindhupalchok and Morang during Monday's ceremony. In the past 10 years, HeNN has spent Rs 30.23 million to help 46 schools, 19 health centres, and rehabilitation for flood and conflict victims. The money is managed by local communities that also make their own contributions so there is a sense of ownership.
A school built by HeNN in Chitwan
"The easy part is donating," said Rana. "It's much more difficult to put the money to work. People like us who were fortunate enough to get a good education and facilities have an obligation to contribute to society."
HeNN keeps meticulous records of all its projects and provides detailed accounts of where the money goes. Donors are also kept updated about where and how their contributions are being used. Says Himali Upadhya of HeNN Austria Chapter: "Many Nepalis want to help, but they want to also make sure that the money they give is spent well and not wasted."
After a decade of engaging Nepalis living abroad, HeNN has now started the "100 Rupees a Month Fund for Nepal", which will be run from its new office. Says Mishra: "Not everyone can be a social worker. But by having one plate of momos less every month, and donating the money to less advantaged Nepalis, a little can add up to a lot."
Where your money goesHELP NEPAL eLibrary in Sindhupalchowk.
HeNN plans to set up e-Libraries in all 75 districts and has already established 15 of them. An e-Library has a central server with books stored in pdf files that can be searched and read on dummy monitors.
HeNN is also building an orphanage in Dhulikhel with support from a Swiss charity. Dhulikhel municipality has supported the initiative by providing millions of rupees worth of land for free. Mugu District has one of Nepal's highest child and maternal mortality rates, so HeNN is working with a community group there to expand and run a health post in Murma that it has supported since 2004.
Nepali Times is proud to be a part of the Help Nepal Network, and urges its readers in Nepal and abroad to support its activities across the country.
www.helpnepal.net