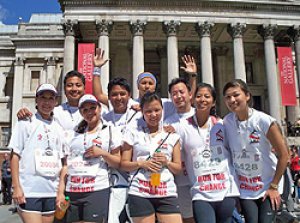 Created Date: August 01, 2009
Author: HeNN
Comment(s): 0
Nepali youths run in London to raise fund for a school
(Source: Nepalnews.com, 01 August 2009)
Link: http://www.nepalnews.com/main/index.php/news-archive/8-news-in-brief/714-nepali-youths-run-in-london-to-raise-fund-for-a-school-.html
Following the success at the British 10K London Run 2008, nine Nepali youths representing colourful ethnic Nepali mosaic took part in the British 10 K run in London last month.
Members of the Sukunda Running Club– Paras Joshi, Tripti Joshi, Niraj Shrestha, Niraj Rajbanshi, Amol Gurung, Meghna Rajbanshi, Reena Sherchan, Pritma Piya and Alice Shrestha– took part in the British 10 K Run 2009, to raise funds for a school in Jhapa, eastern Nepal, under the auspices of Help Nepal Network (HeNN), the first global charity promoted by Nepalis themselves.
Last year, six members of the Sukunda Club had raised £2,500, which helped to purchase and install much needed vital equipments at the Helping Hand Community Health Clinic in Phalebas, Parbat. The purchase included an auto analyser, colorimeter and incubator that have helped to offer a range of health tests locally.
"We took part in the British 10K run last year and enjoyed running through the famous landmarks following part of the actual London marathon route. There were over 26,000 runners in this race last year and it was good to get involved again to represent a Nepali cause," said Paras Joshi, coordinator of this year's run on behalf of the Sukunda Club. "The need to raise funds to rebuild a primary school in Jhapa district was our main source of motivation. We did not want to simply collect this money without any action on our part. Therefore, we committed to some hard work of months of training and actual pain on the race day so that we could earn the sponsorship," he added.
The members of the Sukunda Running Club prepared themselves by meeting every week to train as a team at Richmond Park in south London for over three months. The team increased its stamina steadily over this period by committing to a regular training regime both individually and as a team.
"The race day was very exciting as we were looking forward to this very much. A few of us were slightly nervous, as we had worked so hard for this day. The run was very tough but we were all very determined and we all finished the race and were very full of joy with our achievement," said Tripti Joshi, a member of the Club. "We hope to continue our training sessions and enter many more races to raise funds for similar projects in future," she added.
The team had set a target of raising £4,000 to help renovation of Sri Devi Lower Secondary School at Bahundanda in Jhapa district. The school is in a dilapidated condition and needs immediate renovation. Visit https://helpnepal.net/news/british10k_2009.html to see the picture of the school building.
Help Nepal Network (HeNN) will, then, hand over the money raised through British 10K Run to the local school management committee to help renovate the school building. The school management committee and local community have pledged to put in additional resources to construct the new school building that will occupy over approx. 1,100 sq. ft. of area.
"We have already raised nearly 3,000 pounds and hope to raise rest of the amount within August 2009," said Paras Joshi.
Those who want to support the construction of the school building can do so by visiting www.justgiving.co.uk/british10krun2009.