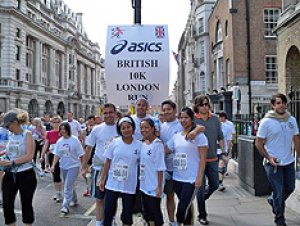 Created Date: July 15, 2008
Author: HeNN
Comment(s): 0
Nepali youths complete British 10K run to help charity
(Sournce: Nepalnews.com, 15 July 2008)
Link: http://www.nepalnews.com/archive/2008/jul/jul14/news10.php
Six Nepali youths have complted British 10K Run early this month to raise funds for a health clinic in west Nepal.
According to Help Nepal Network (HeNN)— a global charity set up by Nepalese to help Nepal—six Nepali youths Paras Joshi, Niraj Shrestha, Suraj Prasai, Nitima Shrestha, Sushila Prasai and Tripti Joshi completed the 'British 10k Run' to help raise funds for 'Helping Hands Community Health Clinic' in Khanigaun, Parbat district in Nepal.
"We wanted to do something that would benefit Nepal. We were thinking of doing something different and interesting at the same time," said Paras Joshi, one of the participants in the British 10K Run.
The participants aimed to raise £2,500 which is the total cost of the medical equipment for the health clinic in Khanigaun, Parbat.
"We have raised a significant amount but we are still looking for further donations to reach the target," said Joshi.
Those who are interested in supporting this cause can still donate on-line by clicking www.helpnepal.net or www.sukunda.co.uk
All six runners came together to form the 'Sukunda Running Club' some six months ago to run the British 10K run to raise money to help poor and vulnerable people in Nepal.
The fastest time for the 'Sukunda Running club' was 52 minutes.
All six runners are young professionals in early stages of their careers. But all of them said they were committed to help the Nepali community in Nepal.
There were a total of 25,000 runners at the British 10K run in this year's event.