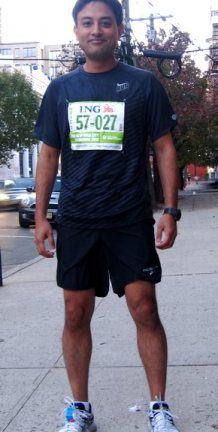 Created Date: July 17, 2010
Author: HeNN
Comment(s): 0
Nepali youth in US runs marathon to raise funds, Nepalnews.com
(Source: Nepalnews.com)
Link: http://www.nepalnews.com/main/index.php/news-archive/8-news-in-brief/10469-a-nepali-youth-runs-marathon-to-raise-funds.html
A Nepali youth has completed the 2010 ING New York City marathon along with over 45,000 other participants including a rescued Chilean miner.
Abhaya Shrestha, a Nepali youth, completed the marathon in 4 hours 18 minute and 46 seconds and raised over US$ 5,000 to support the construction of schools and health centers in Nepal through Help Nepal Network (helpnepal.net) a registered charity. Shrestha beat Edison Pena, a Chilean miner who was rescued after 69 days underground along with 32 other miners last month.
The 34-year-old Pena crossed the finish line in 5 hours, 40 minutes and 51 seconds. World-record holder Haile Gebrselassie was forced to drop out during the race due to an injury. Gebre Gebremariam of Ethiopia won the men's division while Edna Kiplagat of Kenya won the women's division.
"It was a great experience," said Abhaya adding, "Training for the marathon was one of the most physically taxing projects I have ever undertaken: five months; three to six miles a day five days a week; long runs of between eight and twenty miles on the weekends. For a beginner, it demanded commitment and pushing of physical limits."
About running the marathon, Abhaya recollected, "I felt like a drop of water in the river of runners pushed along by the will and cheers of the ocean of spectators. I felt a strange connection to the people around me, to the runners who worked hard to run the distance, to the spectators who cheered the runners on, the kids who held out cups of water at hydrating stations, the musicians who made music along the route, to the YMCA dancers in Brooklyn, to the many faces of the streets of New York City and the people who populate them. It was an amazing experience."
A private equity investor, Abhaya, 36, has most recently worked as Vice President at Behrman Capital in New York and prior to that, as a financial analyst at the investment banking division of Morgan Stanley. He is also an executive member of the Help Nepal Network (HeNN) USA chapter.
President of the HeNN USA, Mabi Singh, congratulated Abhaya for his accomplishment and expressed hope that his feat will encourage other Nepali professionals and friends of Nepal to take part in similar endeavours to help Nepal and the Nepalese. "We would like to assure that every penny donated to us will be put into good use," he added.
Established in 1999, Help Nepal Network is the first international charity promoted by Nepalese and has chapters in over a dozen countries. It supports mainly education and health projects in remote parts of Nepal with active participation of local communities. nepalnews.com