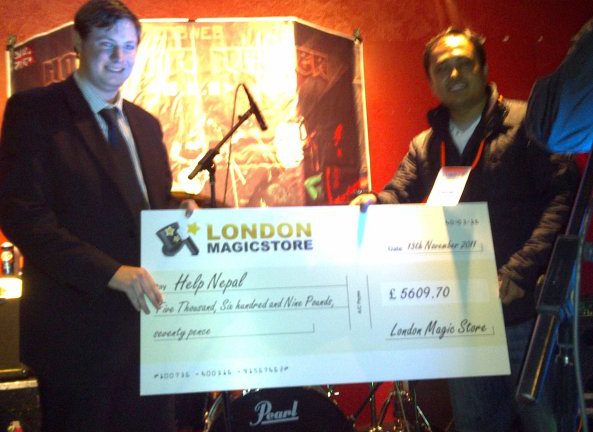 Created Date: October 22, 2011
Author: HeNN
Comment(s): 0
Nepali Entrepreneur Donates Rs 7 Lakhs to HeNN
London Magic Store, eBay's No 1 seller in the UK founded by 21-year-old Nepali youth entrepreneur, Dario Lopez (Sudeep Gautam), has donated nearly seven lakh rupees to HELP NEPAL Network (www.helpnepal.net).
He donated, as pledged, 10 pence per order his company received in eBay during the month of October 2011.
At a ceremony organised in Plumstead, London, Scott Sullivan, the manager of London Magic Store, handed over the cheque of £ 5,609.70 (approx. NRs 673,000) to HELP NEPAL Network.
After handing over the cheque, Mr Sullivan said that London Magic Store feels proud in being able to be associated with HELP NEPAL and support its noble causes.
"We look forward to working together again in the future," he added.
Out of the total amount donated, £4,237.39 will go to Goraksha Ratna Nath Secondary School, Dang, and £1,372.31 will go to Tribhuvaneshwori Higher Secondary School, Bajura.
"We very much appreciate the support extended by the London Magic Store and are happy to inform that every penny supported by them will directly go to the schools concerned," said Sachin Shrestha, the Treasurer of HELP NEPAL Network UK.
"We hope all the best for the company and look forward to a rewarding partnership in the future as well," he added.