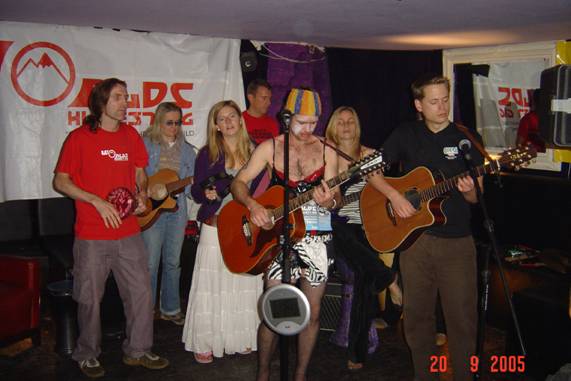 Created Date: July 18, 2006
Author: HeNN
Comment(s): 0
NBT Hands Over £19,000 To HeNN For CIC Shelter
Nepal Balbalika Trust (NBT), a UK registered charity, has handed over £19,000 to HELP NEPAL Network for the planned construction of a children's shelter at Dhulikhel, on the eastern suburb of Kathmandu.
NBT was established by a group of musicians concerned by the situation of children in Nepal. They formed the NBT in 2004 and embarked on a fund-raising mission with an aim to build a self-sustaining shelter for Nepali children.
HeNN and NBT have been working together since 2005 to build the planned shelter, which will house Conflict Impacted Children (CIC).
As NBT engaged in a Guinness record-breaking World's Highest and Longest Gigs to raise funds, HeNN's Nepal team successfully acquired a piece of land free of cost at the scenic city of Dhulikhel just outside Kathmandu.
NBT plans to raise further funds to build and sustain the shelter as HeNN begins the construction work in August 2006. The aim is to start small but expand later to accommodate around 50 children.
If you would like to support this worthy cause, please write to admin@helpnepal.net
(News about World's Highest and Longest Gigs on the BBC)
British musicians claim to have set the world record by playing a gig at the world's highest altitude – above Mount Everest 's Base Camp.
The artists, from five separate bands, said they performed at 5,545m at Kalar Pattar last month.
The 40-minute concert, in front of about 100 mountaineers, was to raise money for children victimised by armed conflict in Nepal . Musician Oz Bayldon of The Hidden said it was a wonderful experience. The Everest gig was organised by British charity The Nepal Balabalika Trust (Trust for Nepalese Children).
The musicians who played also included Martin Harley of The Martin Harley Band, and solo artists Ben Michaels, Michael 'Skyhook', Billy Page, Mike McGuiness and Nick Storey, said trust member Jason Merry.
Long playing
Another group of musicians performing for the charity had already set another world record of longest gig in September this year by performing continuously for almost 44 hours in a bar in London 's Soho district.
Mr Bayldon said they had raised almost £30,000 overall to help Nepalese children.
He said a shelter and skills centre will be set up for the conflict-affected children at Dhulikhel, east of capital Kathmandu , with the help of another charity, Help Nepal Network.
Rights groups say almost 400 children have died in the nine-year-old armed conflict in Nepal . They say thousands of others have been displaced, along with their parents, as the conflict intensifies.
More than 11,000 people have lost their lives in the insurgency which aims to replace the country's monarchy with a Maoist republic.
( News courtesy: BBC News Online )
For more information contact admin@helpnepal.net