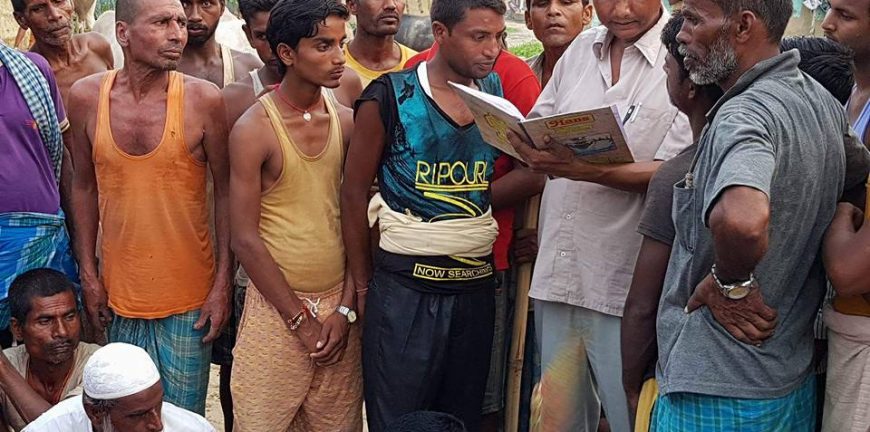 Created Date: September 10, 2017
Author: HELP NEPAL Network
Comment(s): 0
Monsoon Relief Fund 2017
HELP NEPAL Network (HeNN) started its Monsoon Relief Fund on August 15 and provided relief to more than 1500 families in seven districts- Saptari, Siraha, Rautahat, Sunsari, Bara, Jhapa and Nawalparasi.
Relief materials included super-flour porridge (सर्वोत्तम लिटो), bitten rice, daalmot, personal hygiene products (toothbrush, toothpaste, soap, sanitary pad, bucket, mug, mask), Oral Rehydration Salt (जीवनजल), water purifier, general medicine, mattresses and bedsheets.
Apart from providing emergency relief to affected families, HeNN also handed over a variety of general medicine for health camps in Sunsari, Saptari, Jhapa and Morang.
HeNN works directly with its local partners- HELP NEPAL manages procurement and transportation of relief materials and our local partners coordinate and distribute relief in their local communities. Including logistic costs, HeNN spent a total of NRs. 23,85,688/- (Twenty three lakh, eighty five thousand six hundred and eighty eight rupees) on Monsoon Relief Fund 2017.
Deployment

District

Local Partner

No. of Families

Relief Amount

August 15
Saptari
Dharmi Halfa Women's Development Club
NRs. 34746.36/-
August 15
Siraha
Yuwa Dalaan

250

NRs. 43476.2/-
August 16
Rautahat
Shubhalal Secondary School alumni
NRs. 128445.84/-
August 17
Sunsari
Nawa Adarsha Nepal
120
NRs. 103612.84/-
August 18
Sunsari
I For Change
100
NRs. 89354.4/-
August 18
Bara
सभ्य समाज निर्माण अभियान
50
NRs. 50357.2/-
August 18
Jhapa
महिला तथा बालबालिका जनजागरण अभियान
200
NRs. 353870/-
August 18
Saptari
Dharmi Halfa Women's Development Club
200
NRs. 394370/-
August 18
Sunsari, Saptari, Jhapa, Morang
Mountain Heart Nepal
1500 people
NRs. 1,50,847 /-
August 19
Rautahat
Rautahat Welfare Society
100
NRs. 130098/-
August 20
Nawalparasi
Maruti Nandan Youth Club
200
NRs. 295136/-
August 27
Nawaparasi
Chormara Yuwa Club
20
NRs. 46302.6/-
August 30
Chitwan
Aarambha Foundation
NRs. 20708/-
September 1
Bardiya
सिर्जनशील जनशक्ती समाज
 350
NRs. 385656.63/-
September 7
Jhapa
महिला तथा बालबालिका जनजागरण अभियान
150
NRs. 137637/-

TOTAL

NRs. 23,64,618.07/-