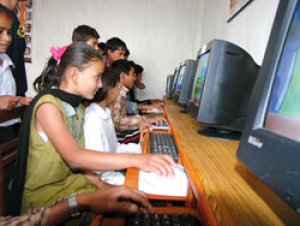 Created Date: May 26, 2007
Author: HeNN
Comment(s): 0
Making a Difference: Opening Up with Open Source, WAVE monthly
Source: WAVE, ISSUE # 137, May 2007
http://www.wavemag.com.np/issue/article2714.html
by VIBEK RAJ MAURYA
Shyam Krishna Dangol (16), a grade 10 student in Shri Sarawati Secondary School, Thakalmath, a small village on the eastern ridges of the Kathmandu Valley, is elated to have six new computers in his school. Within a few hours of spending time on a computer he has realized that a computer can be a good companion for learning. "I can now literally see the demonstrations of science experiments, refer the encyclopaedia and even play games," explains Shyam. This is one example of how Information and Communications Technologies (ICT) can narrow down the rift of digital divide and uplift the deprived students.
In the face of rapidly changing technological advancement and the exorbitant cost of proprietary hardware and software solutions, which had stymied Nepal in attempting to participate in ICT for development, the use for Free and Open Source Software (FOSS) is emerging as a solution. There is a global trend toward FOSS solutions, which has become viable, cost effective and suitable options for countries like Nepal in ICT for development. "FOSS has challenged our preconceptions on how software is produced and distributed", Roshendra Dhoj Khadga, executive board member, Help Nepal Network – Nepal (HeNN – Nepal), adds, "Linux Terminal Server Project (LTSP) can be low cost solution for deprived communities who cannot afford a bigger volume financial expense," he adds. HeNN, a non-profit organization in association with FOSS community of Institute of Engineering (IOE) has so far implemented the e-library concept in Thakalmath and Deukhuri under its project 'One e-Library per District'.
LTSP, a system that works with only one central high end server and other diskless low-end thin client computers, allows to run Linux on a server, and then use thin clients (almost any computer will do) to connect to the server and receive a full-blown Linux desktop. "It works by deploying LTSP on a high-end server with Linux, take a very low end PC, remove hard disk, CDROM and Floppy Drive and add a bootable network card and you have a full fledged PC ready to work on", explains Shishir Jha, engineering student of IOE and volunteer of e-library project.
"Had it been chosen to deploy normal system with 10 computers it would have cost around NRs 3,00,000, LTSP slashed hardware cost by 40% and if we consider software and maintenanace, the cost goes down by 75%," explains Bhaskar Prasad Rimal, Software Developer of Bhasha Sanchar, a project under Madan Puraskar Pustakalaya, who envisages to implement similar project in schools in Dailekh, Myagdi, Dhading and Lalitpur.
Nepal's ICT infrastructure is sparse with no substantial development in the rural areas. The fact that a majority of the Nepali population lives in the rural areas makes the situation look gloomy and just having the most efficient and effective software isn't enough, necessary infrastructure and hardware for the vital applications is essential as well. It is necessary that a proper ICT infrastructure must exist before any meaningful usage is achieved and only then the deployment of LTSP can be one of the solutions.
To know more or support this project visit: www.helpnepal.net or www.bhashasanchar.org